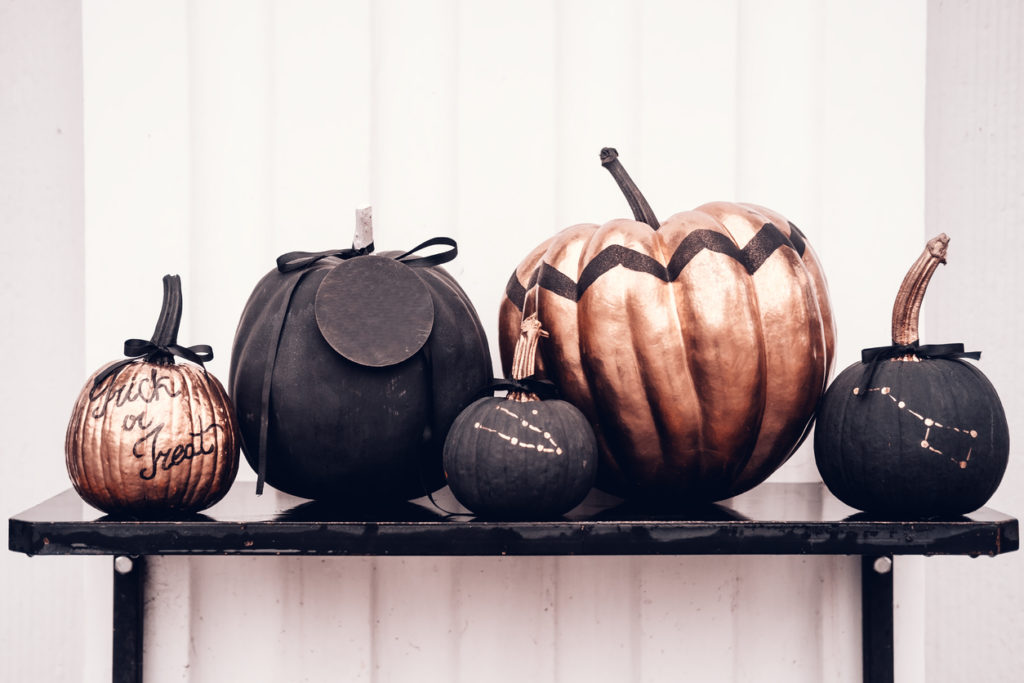 Halloween is only weeks away, so it's time to prep your decorations. If you want to go beyond the typical jack-o'-lanterns and spider webs, check out these do-it-yourself ideas.
Painted Pumpkins
While the classic carved and candlelit jack-o'-lantern is always a welcome sight on Halloween, the humble pumpkin is prime for a glow-up, and you can paint your own for stand-out style. A black and white color scheme with multi-surface paint is a great starting point, and you can decorate the gourd with rhinestones, ribbon, and whatever else comes to mind. Top it all off with a pointy witch's hat. You can also think outside the box and use other seasonal produce to make these spooky Ghost Gourds. The irregular shapes and unpredictable blemishes and contours make the perfect canvas for festive phantoms or other creatures.
Ghost Wreath
You can greet your guests with a friendly ghost on your door, and this tutorial guides you step by step to bring this amicable apparition to life. Curls of white ribbon make a wispy, ethereal effect, and black foam paper makes whatever face you can imagine pop out from the cloudy figure.
Mason Jar Lid Pumpkin Lamp
If you have some used or spare mason jar lids lying around and taking up space in a junk drawer, you can put them to good use with this amusing light feature. This pumpkin lamp incorporates the mason jar lid rings as the body of the pumpkin, and they can be painted orange or whatever color you prefer. Use ribbon or thin wire to hold them all together in a circle, and run some string lights through the rings before forming the circle.
Marquee Letters
When you really want to send a message, glowing marquee letters are sure to do the trick. Pick out some multi-surface paint in dark colors like black and purple, as well as mini lights in a warm color like red, yellow, or orange. This project involves a few more steps than the others, but the payoff is rewardingly stylish.
You might also like: Pick The Perfect Pumpkin For Carving This Fall
Berglund Automotive
If you're looking for something else to get you into the spirit of the season, come see us to see what we can do for you. We're sure to have the perfect solution to all your automotive needs, and you're welcome to check out our selection online or on the lot.