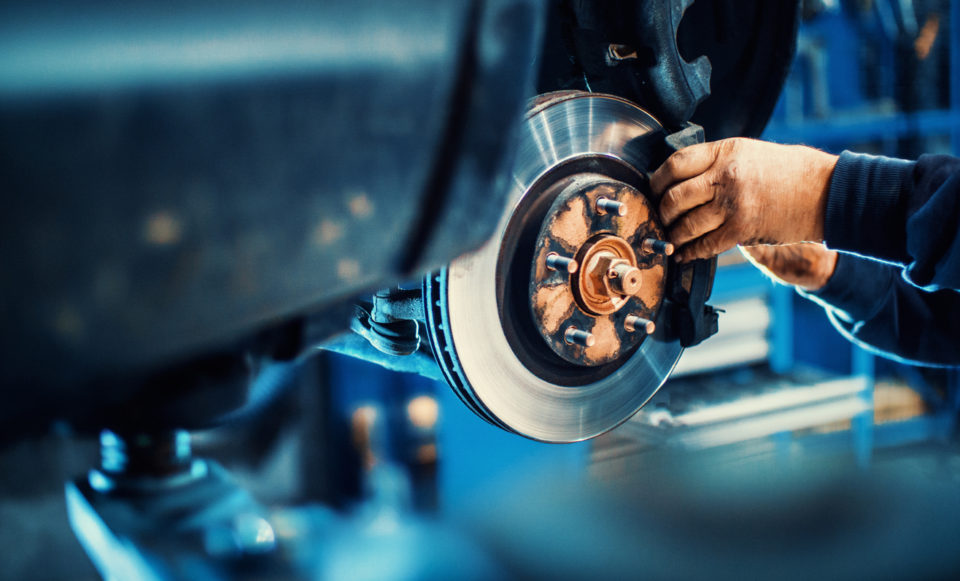 Your brake pads play a crucial role in the operation of your vehicle, so knowing when to change them is essential. The brake pads help create friction which helps to slow and stop your vehicle when you press against the brake disc. It's recommended to replace your brake pads every 25,000 to 50,000, depending on how you drive your vehicle; however, having your brakes inspected every time you get your oil changed is a good idea. According to Family Handyman, you can also monitor your brakes to determine when to bring your vehicle in for a brake pad replacement.
Glazed Brake Pads
Your brake pads can be affected by a variety of elements. There are several warning signs to look out for that could indicate that your vehicle needs a brake pad inspection. One sign you need a brake replacement is when the pads are glazed. Glazed brake pads are dangerous and can occur when they overheat, which can happen if you brake fast in an emergency or ride your brakes for an extended period. When you have glazed brake pads, that means they are smooth and crystalized in appearance. Your brake pads can be glazed, no matter the thickness.
Other Warning Signs
While you definitely should heed with caution when you have glazed brakes, there are other brake warning signs. These signs include:
Thin Brake Pads – If your brake pad is less than 6 mm, it's time for your next replacement. You should schedule your next service appointment.
Squealing or Grinding Noises – If you notice a squealing or grinding noise when you brake, this could be a sign that your brake pads are too worn and need replacement.
Vibration While Braking – If there is excessive vibration when you brake, this may be a sign of uneven wear and should be addressed immediately.
Longer Stopping Time – If you have to press harder and longer on your brakes to get your vehicle to stop, your brakes could be worn entirely, meaning you should bring your vehicle in for a replacement.
Brake Warning Light – The brake warning light is typically a red circle with an exclamation in the middle, alerting that your vehicle's brakes are worn and need replacement.
Read the Signs
Without a brake pad replacement, you risk damage to the other components of your brake system. This can lead to costly repairs. Don't ignore the warning signs; schedule your service appointment today and avoid unwanted repair costs. Your brake pads impact your safety when driving, so make sure they are operating smoothly.
You May Also Like: What's the Difference Between Premium & Regular Gas?
Schedule Brake Service With Berglund Automotive Group
Schedule a service appointment with the Berglund Automotive Group if your brakes are due for a service. Their experienced staff can provide you with affordable and efficient service. This enable you to quickly get back on the road. Make sure you ask them about their available service and parts deals so you can save on your next visit. Their service center is conveniently located at 1824 Williamson Road, Roanoke, VA 24012. They make it easy to schedule a service appointment at a time that is convenient for you.
Disclaimer: The stock image is being used for illustrative purposes only, and it is not a direct representation of the business, recipe, or activity listed. Any person depicted in the stock image is a model.