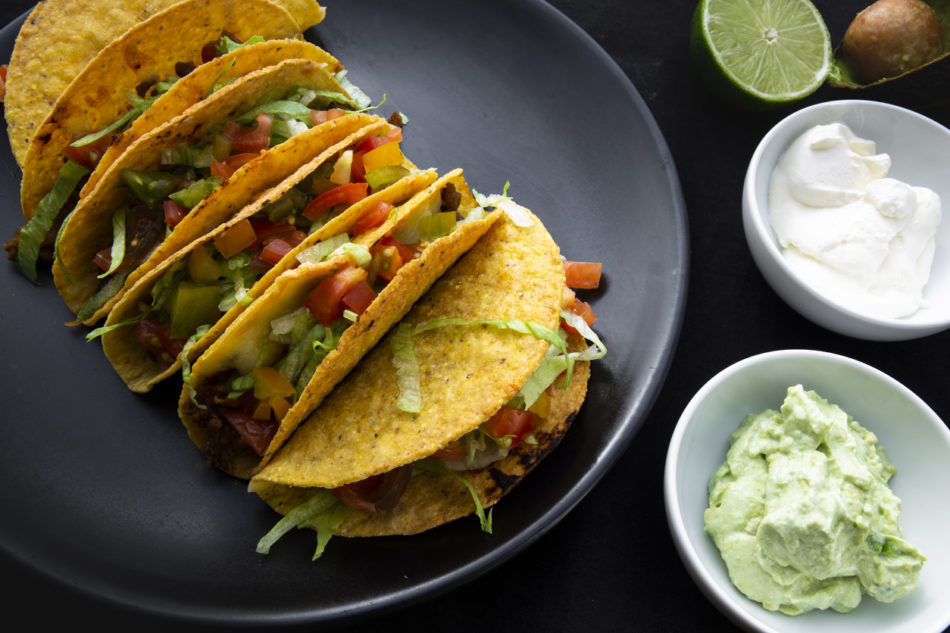 Did someone say Taco Tuesday? Once you try these Instant Pot Tacos, your family will be begging for this delicious meal not only on Tuesdays but every night of the week. With just 50 minutes of preparation and cook time, an Instant Pot, and nine main ingredients, you'll have a yummy fiesta dinner for six in no time!
Here's What You'll Need
2 pounds lean ground beef, frozen
1 finely diced, yellow onion
2 chopped garlic cloves
2 tablespoons chili powder
1 tablespoon cornstarch
1 tablespoon ground cumin
1 tablespoon kosher salt
2 teaspoons ground black pepper
taco shells
toppings of your choice, we suggest the following: shredded cheddar cheese, sour cream, avocado, shredded lettuce, chopped tomatoes, hot sauce, refried beans
Step By Step Instructions
Begin by adding 1 cup of water to your 6-quart Instant Pot. Follow the gadget's instructions for locking the lid to prepare for cooking.  Crank up the heat by pressure cooking on manual high pressure for 10 minutes.
Next, followed by the pressure cook cycle, continue to follow the instructions for a release cycle and remove the lid.
After, switch gears to the saute function and add the following ingredients: cumin, cornstarch, onion, chili powder, garlic, salt, pepper, and ground beef. Allow time for the mixture to simmer, making sure the onions are softened, and the meat is broken up. This should take around 8 minutes. Simmer, simmer!
Once the ingredients are combined, and the meat is cooked through, your tacos are ready to serve. Heat your taco shells and top them with your favorite ingredients! It's just that easy and delicious, so gather your family for this tasty meal. Also, you can't go wrong with a side of chips, queso, and salsa of course.
You might also like: Keep The Focus With These Playlists
Come Visit Berglund Automotive Group
Now that you have prepared an easy, delicious meal the entire family will love, have you considered upgrading your ride? Here at Berglund Automotive Group, we have a vehicle fit for everyone's needs, whether you are looking for a spacious SUV for the family, a commutable sedan, or a pickup for offroading adventures. Come see us so you can view our diverse inventory. We are excited to serve up a new ride, perfect for you!