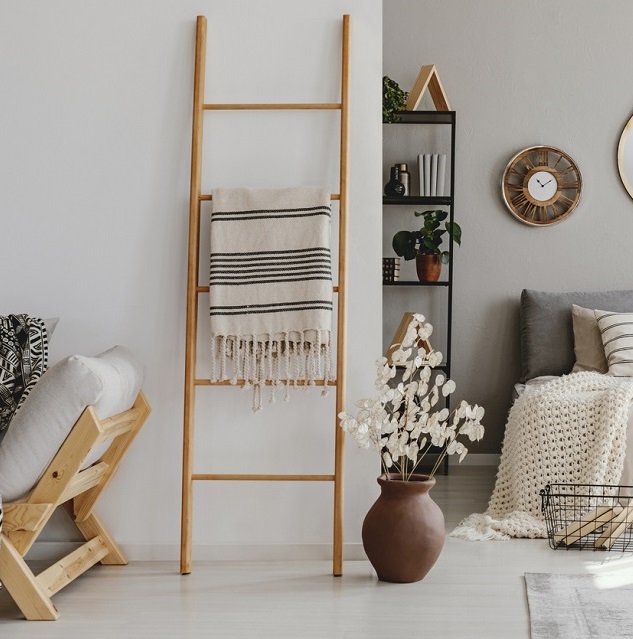 Whether you're short on storage or want simple yet functional decor, a blanket ladder is an elegant solution. But many high-end shops want hundreds of dollars for this household item. However, you don't have to shell out the big bucks to get this functional look because you can easily craft it yourself. Store your blankets on your own DIY blanket ladder.
Your Blanket Ladder "Ingredients"
Just like a good recipe, you'll need some specific ingredients to create your own blanket ladder. Fortunately, you can find the items you need at reasonable prices at your local hardware store. To make this ladder, you'll need:
16 feet of wood. You can use 2X2 furring strips, which are actually about 1 ⅜ by 1 ⅜ inch. They usually come in 8-foot lengths.
Stain in your preferred color
8 2 ½ inch wood screws
Wood glue
Saw
Drill
Measuring tape
A clear coat to prevent transferring your stain color to your blankets
Felt pads to prevent scratching floor or wall surfaces
The Step-by-Step Process
First, you'll need to cut your eight-foot strips down to five feet. Then, cut the remaining pieces of wood into 18-inch pieces for your "rungs."
Now, arrange your pieces on the ground to make the ladder. You can space your rungs about 12 inches apart, although you may want to start well off the ground so you can hang a blanket from the lowest rung.
When you have arranged your pieces, put a little wood glue on the end of each rung and screw them to the vertical pieces. Make sure to center the screw, so it doesn't split the wood or poke out.
Once you've constructed the ladder, you can stain and seal it. You'll probably want to do this step outside if possible to avoid trapping the strong smells in your home.
Now that the ladder is completely dry, you can hang your blankets on it for a stylish accent.
You might also like: Your Table At Beamer's 25 Is Ready
Decorating with Your Blanket Ladder
You can spend hundreds of dollars for a blanket ladder from a fancy retailer, or you can try crafting your own in very little time and for much less money. And once you've tried it, you'll realize how simple the process is. You may even want to make a smaller version to hold towels in the bathroom. In addition, you could easily make this craft as a lovely housewarming gift for a friend. And as you become more confident, you can experiment with the sizing of the ladder, as well as the types of finish or paint.
Remember, your blanket ladder isn't meant to hold a person's weight, so it's important not to let people climb it. But you'll love making this simple yet beautiful room accent that keeps spare blankets handy for a draft or chilled guest.
Disclaimer: The stock image is being used for illustrative purposes only, and it is not a direct representation of the business, recipe, or activity listed. Any person depicted in the stock image is a model.