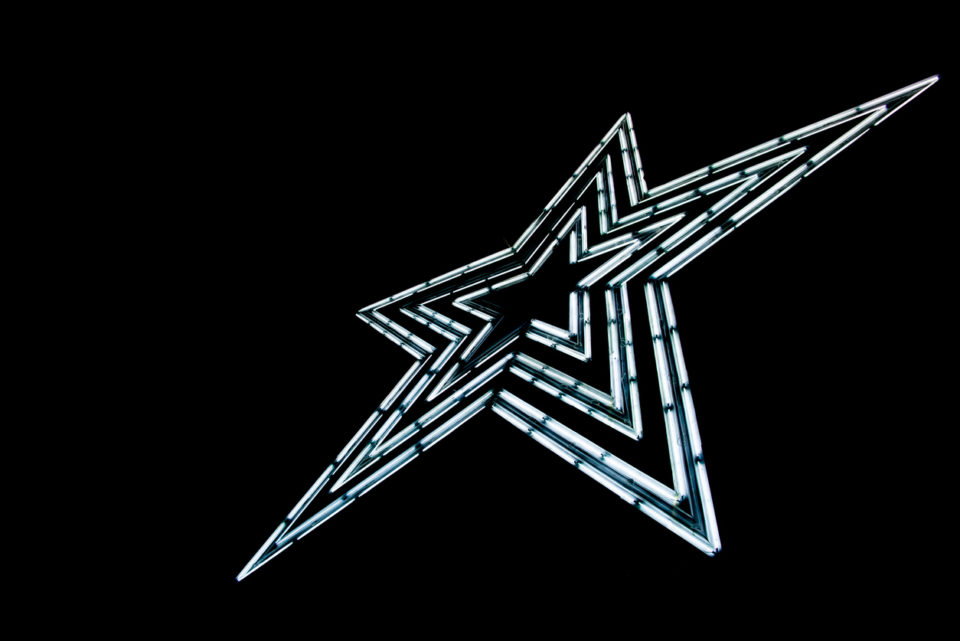 In 1949, the Roanoke Merchants Association, representing the local retailers, began brainstorming ideas for promoting the upcoming Christmas shopping season. Several ideas were tossed around, and a final decision was made to put a large star at the highest point on Mill Mountain.  
The merchants association approached sign maker, Roy Kinsey, and offered him the commission to build the giant Christmas star decoration. Roy and his sons designed and built the Star using over 2,000 feet of neon tubing and then placed it 1,045 feet above sea level on the top of Mill Mountain. A lighting ceremony took place on November 23, 1949. When Mayor A.R. Minton hit the switch and the Star was lit, the red, white, and blue neon could be seen for 60 miles. 
People from all around Virginia saw the light and followed it to Roanoke. The area saw an influx of travelers, and local retailers saw their Christmas sales skyrocket. The Star became a huge hit, and the community decided to keep the Star up all year round. Standing over 88 feet tall and weighing 10,000 pounds, the Roanoke Star is the most massive freestanding, illuminated Star in the world. 
You might also like: 6 Reasons Why You Should Purchase A Used Vehicle
Star City of the South
The Roanoke Star can be accessed by following the Blue Ridge Parkway to Milepost 120. The site overlooks the city and is the most popular photo-op in all of Roanoke. Mill Mountain also features plenty of family-friendly activities, including hiking, a zoo, and even a theater. The Star is illuminated every evening in red, white, and blue neon. The site is a perfect place for a picnic or just to hangout. 
On your way to the Star stop by Berglund Automotive Group and view our incredible selection of new and used vehicles. We carry 21 brands at 10 convenient locations in Roanoke, Lynchburg, Salem, and Bedford. Whether you need a family-friendly compact SUV, sporty sedan, or a workhorse of a truck, we've got thousands to choose from at a price you'll love. View our inventory online at BerglundCars.com. When you find what you like, send us a message, email, or simply schedule a test drive.