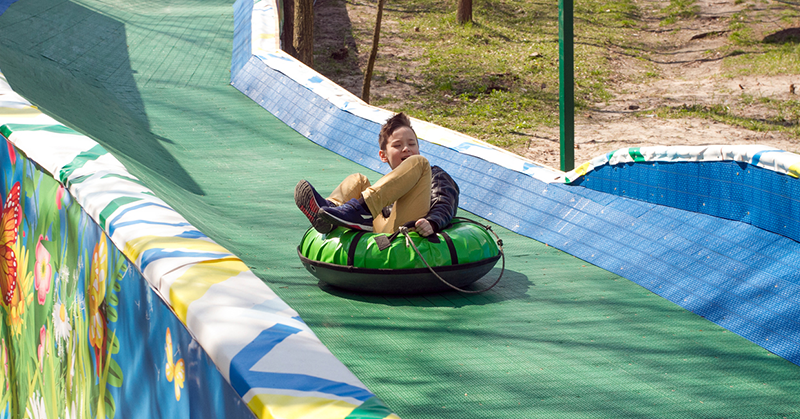 You may think that tubing is only something you can do in the snow or something you can do when you go to a river in the summertime. But when you head out to the Neveplast Tubing at the Liberty Snowflex in Lynchburg, you can enjoy year-round tubing that you're sure to enjoy. There are various tubing options for different people, so kids and adults alike are going to have a blast when they come out to this popular local attraction. What are you waiting for? Get the details below.
Safe and Fun
Worried about safety? You don't have to be. This tubing adventure is sure to offer a thrill, but it's also quite safe. Therefore, you can bring the kids along without a worry. However, just ensure that you and your little ones follow all the rules. You'll also have to sign a liability waiver. Keep in mind that only children 5 years of age and up can participate in the tubing at the Liberty Snowflex.
Pricing
Wondering how much it will cost you to go tubing at the Liberty Snowflex? It's actually quite affordable. It costs just $13 per hour. However, if you want to experience all that the Snowflex has to offer, you should check out the combo pass. It costs $25, and it gives you access to the slopes, ski and snowboard rental equipment, and an Olympic trampoline for two hours. If you are truly looking for a day full of fun, this is the way to go.
Different Kinds of Slopes
Since all kinds of people are enjoying these slopes, there are different options for everyone. For example, younger children might want to go on the smaller slope. It's only 80 feet long, and kids will only reach about 10 mph. This is a great option for those who are just starting off. However, older kids and adults who are looking for more of a thrill will probably have a better time on one of the larger slopes. One is 350 feet long, and the other is 500 feet long. You are likely to reach speeds of about 30 mph on each one, which is sure to result in an amazing experience!
You might also like: Explore Dixie Caverns In Salem, VA
Get a Beautiful View of Liberty University
Liberty University has a beautiful campus, and you'll get to see it from an all-new angle when you come out to this fun attraction. Check out the view as you slide down the slope, and you're sure to want to do it again and again.