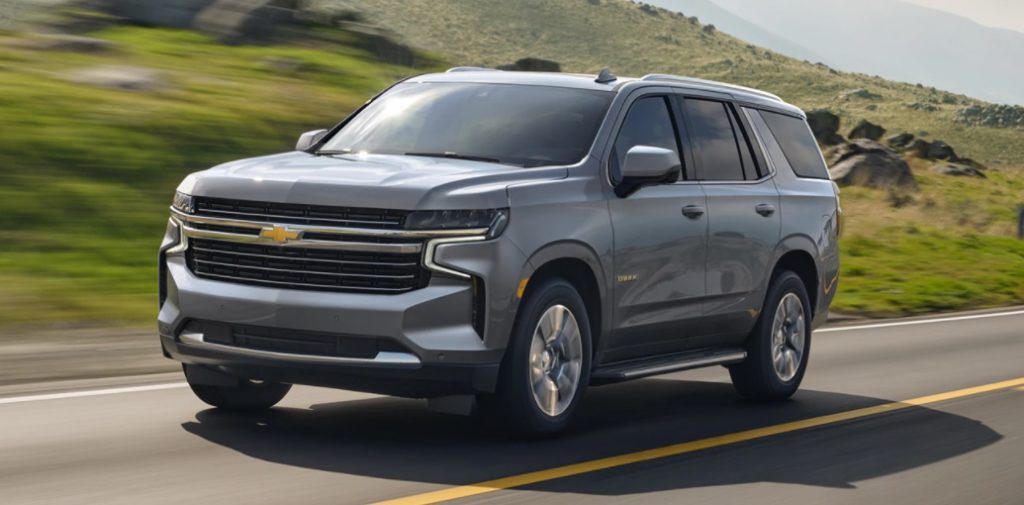 If you're preparing to hit the road with a cabin filled with friends and family, safety naturally comes first, and you should make sure everyone onboard has plenty of room for a comfortable trip. Some built-in entertainment options could help pass the time over longer outings, and the engine should be strong enough to tow a trailer when you need to bring one along. Fortunately, Chevrolet understands the requirements of a modern SUV, and the 2021 Tahoe delivers all the necessities and more.
A Comprehensive Redesign
Chevy has totally redesigned the Tahoe for 2021, and the SUV enters its fifth generation with a larger body and more cabin space than ever before. The Tahoe sports fresh styling inside and out, and Chevy now offers a hearty diesel option for serous power whenever towing duty calls. The SUV also rides on a new independent rear suspension to ensure that passengers from front to back can enjoy a smooth ride no matter what condition the road ahead is in. If you prefer to rumble off-road, the Z71 trim joins the Tahoe's lineup as a dedicated adventure sport utility vehicle.
On the Inside
The fresh new cabin can hold up to nine people with an unprecedented amount of shoulder room, overhead space, and legroom. All three rows provide generous cushioning as well as substantial support for a relaxed riding position. As the ideal family vehicle, the Tahoe also features three complete sets of LATCH connections for securing children's car seats in the middle row.
Amenities and Convenience
If your passengers tend to become restless on long rides, you can opt for the available rear-seat entertainment system to keep them engaged for miles ahead. Chevy offers an eclectic array of features and amenities to customize the interior, including leather upholstery, ventilated seating, and power-folding second and third rows. You'll have plenty of storage space for groceries, gear, and other cargo, with 25.5 cubic feet available in the back of the SUV. When you fold the Tahoe's second and third rows, you'll have more than 122 cubic feet to work with.
You might also like: The Dos And Don'ts Of Carving A Pumpkin
Berglund Automotive Group
If it sounds like the Tahoe is the SUV for you, come check it out at our dealership. You'll find this dynamic Chevy and more in our selection.