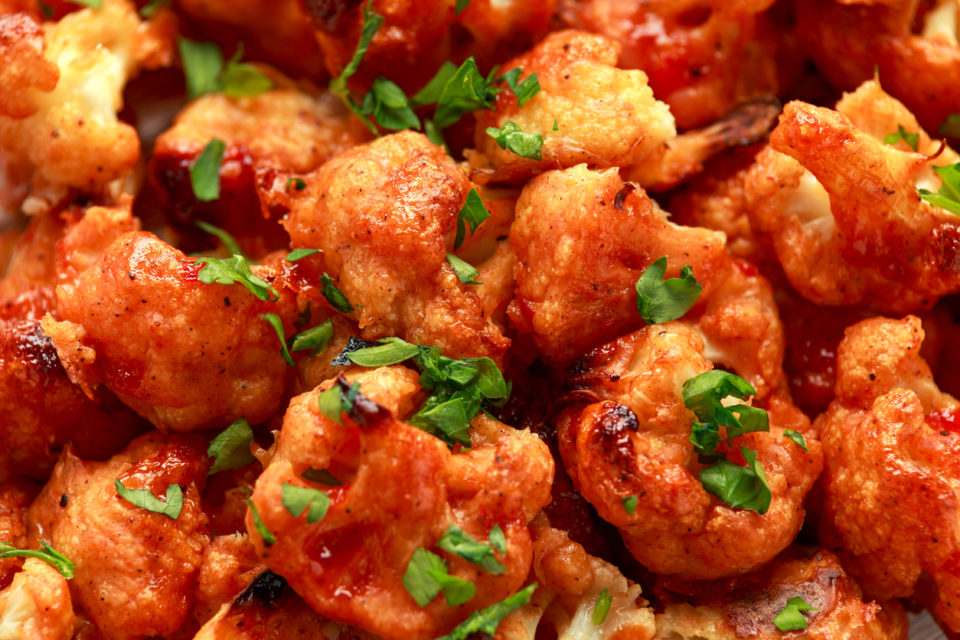 Cauliflower might be the most versatile vegetable around. You can use it to make rice, mashed potatoes, and so much more. While there are lots of tasty choices, it's hard to beat this mouthwatering buffalo cauliflower recipe. It's crispy and divine and so easy to make that you'll find yourself coming back to it over and over again.
Start By Gathering the Ingredients
You need to start by picking up some ingredients. Here's what you'll need:
Extra-virgin olive oil
Head of cauliflower
3 tablespoons of avocado oil
2 tablespoons of nutritional yeast
1 teaspoon of garlic powder
Blue cheese dressing
1 teaspoon of smoked paprika
1/8 teaspoon of cayenne pepper
1/3 cup of vinegar-based hot sauce
2 tablespoons of salted butter
1 teaspoon of onion powder Celery sticks
You likely already have a lot of these ingredients at home. Check the refrigerator and cupboards, and then head to the grocery store to grab the rest.
Preparing the Food
Turn the oven to 450 degrees, and coat a baking sheet with oil. Prepare the ingredients by melting the butter and separating the cauliflower. Break the head apart into florets that are no bigger than two inches wide.
After, take out a large bowl and add the seasoning, nutritional yeast, and oil. Stir it up and then throw in the cauliflower. Toss it together to coat the cauliflower.
Next, place the cauliflower on the sheet pan. Make sure you spread it evenly. Put it on the middle rack in the oven for about 15 minutes. Check on it after 10 minutes and continue to do so until it has crispy brown spots. Next, you can take it out of the oven.
Put the butter and hot sauce into a bowl. Mix it up and add in the cauliflower. Toss it once again so the sauce coats the cauliflower. After, take it out of the bowl and put it on a plate. It's time to eat. Also, don't forget to add the celery and blue cheese dressing. The blue cheese and celery will give your mouth some relief from the heat of the hot sauce.
You might also like: Easy Spring Grilling Recipes
Want it Spicier? Add More Cayenne Pepper
If you want to bring the heat, you can add more cayenne pepper to the mix. Start slow, and continue to add the spice until you have the desired heat. Remember, a little bit of cayenne pepper can go a long way. If you add too much, it could become too hot to handle.
Without a doubt, this recipe is a quick and easy way to bring some heat this spring and summer. It serves up to 12 people, so you can go back for seconds without a problem. Grab some ingredients and give it a try. It only takes a few minutes to prepare the ingredients, and with a short cook time, you'll be chowing down soon.
Disclaimer: The stock image is being used for illustrative purposes only, and it is not a direct representation of the business, recipe, or activity listed. Any person depicted in the stock image is a model.