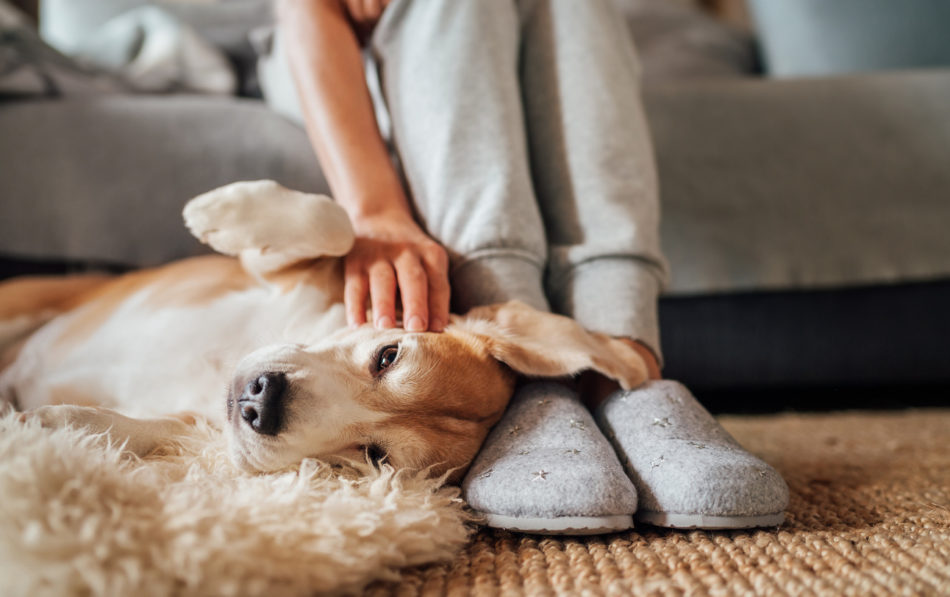 Having pets is nothing but fun. They're downright adorable, offer companionship, and truly, they are a part of the family. Although, having pets in the house can work up quite the mess, especially with the musty smell they carry, as well as the never-ending fur shedding. Don't result in sending your furry friend outside, though. Incorporate these cleaning tips into your furry-filled home, so you can enjoy your pet and a clean house too.
Hardwoods, Laminate, and Tile Floors
While the obvious cleaning tactic for hardwoods, laminate, or tile floors may be vacuuming, there will still be plenty of remnants of pet hair. You see, vacuuming may pick up pet hair, but it also blows the particles in their air, which leads to it resettling on the floors. The same effect happens with a straw broom, so give a dampened mop, rubber broom, electronic dust mop, or dryer sheets a shot. A dampened mop soaked in a specialty cleaner or laundry detergent will not only pick up pet hair but will also cleanse your floors of other germy build-ups. Also, for hardwood floors, rubber brooms are a true game-changer, as the electrostatic tendencies from the rubber will act as a magnet. If you have lots of hard-to-reach gaps and edges, the electrostatic dust mop has tiny hooks to pick up dust. On the other hand, have you heard of the dryer sheet baseboard hack? Not only will this tactic remove dust, but it makes the boards anti-static, preventing future messes.
Upholstered, Wooden, and Glass Furniture
For fabric and upholstered furniture, grab some rubber gloves or a damp sponge to get the job done. Although, if you want to get a little fancy, give velcro a shot, as it'll remove all of the pet furs you didn't even know were there. On the other hand, for wooden furniture, you'll need a soft cloth and furniture polish, as wooden pieces tend to be more sensitive. Moving down to the legs of the furniture, call us crazy, but an emery board nail file will scrape off all of the mess. There are plenty of ways to maintain fur without distancing man's best friend.
You might also like: Discover Impressive Performance In A RAM 1500
Beds, Pillows, and Curtains
If you let your cat or dog sleep with you, there's probably fur everywhere on your linens, but the snuggles make it worth it. If you have a double-sided lint brush, it works magic on black pants, so it's suitable for your bedding, pillows, and curtains too. For your blankets, if you have any sticky notes sitting around, the backside of a few will magically pick up fur. Not sure if you've heard this one before, but a dry sponge ran over the curtains will do wonders.
With just a few cleaning hacks, you can enjoy your pet's company without the worry of a furry mess. Watch these cleaning hacks transform your home!
Disclaimer: The stock image is being used for illustrative purposes only, and it is not a direct representation of the business, recipe, or activity listed. Any person depicted in the stock image is a model.