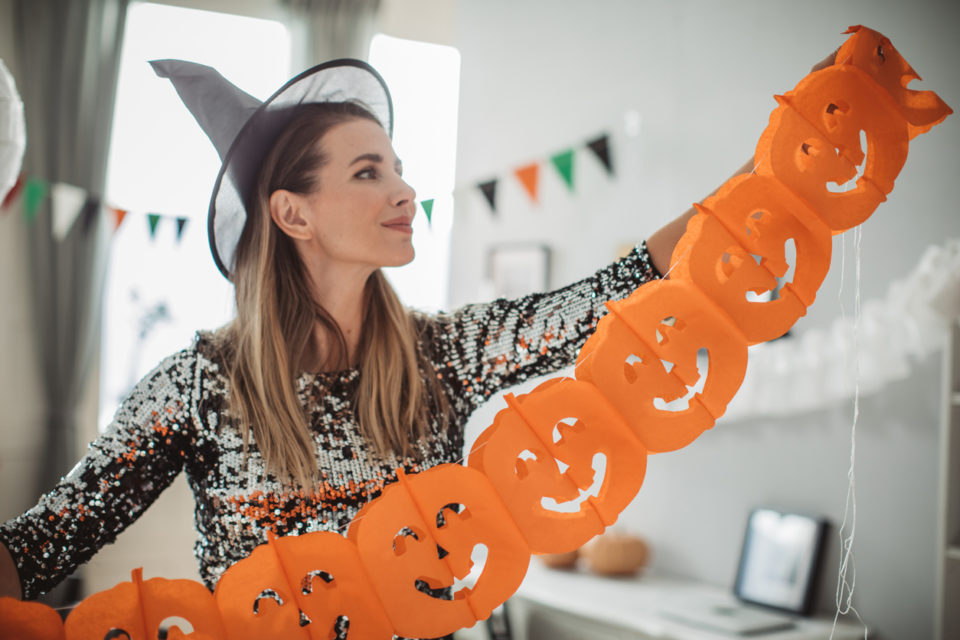 Are you tired of displaying the same Halloween decorations as everyone else? You want to go in a different direction, so consider making your decorations this year. Check out these simple DIY Halloween decorations that will make your guests scream.
Scary Crow Wreath
The chills can begin as soon as your guests reach your front door with this scary crow wreath. First, you'll need to use flat black spray paint to paint a grapevine wreath. Then add some cardboard crows to the wreath and finish it off with a patterned ribbon.
Bubbling Cauldron
Let your neighbors know that there's a witch in town by creating a bubbling cauldron. This is shockingly simple to make. You need to put some dry ice and water in a cast-iron Dutch oven, and it will emit steam that looks like fog. If you already have a Dutch oven, you only need to pick up some dry ice at the grocery store.
Witch's Broom Chandelier
You can't have a witch without a broom, so tackle this witch's broom chandelier craft as well. First, grab some mason jars and put battery-operated black candles and black sand inside. Then, use black twine to attach the mason jars to the handle of a regular broom. Next, attach a fake black cat to the bristles with black wire. This is sure to get a reaction.
Giant Balloon Spiders
You'll give your guests a fright when you decorate with giant balloon spiders. You need to blow up one small and one large black balloon. Then tie the two together, so the big balloon serves as the body and the small balloon serves as the head. Then you'll need eight lengths of 12-gauge craft wire for the legs. Wrap black faux fur around the wire and secure it in place with hot glue. Then take four lengths of the wire and twist it to create a bunch of tiny legs. Next, do the same thing with the other four lengths and wrap the twisted ends with a black pipe cleaner. Then do the same around the spider's neck to give it that furry, creepy look. Once it's assembled, place some fishing wire around one of the legs so you can hang it up.
You might also like: Enjoy This Homemade Pumpkin Spice Latte Recipe
Ghoul's Night Out
It wouldn't be Halloween without some ghosts, so be sure to make this ghoul's night out craft as well. You'll need white tissue-paper bells for this craft. Then create eyes and mouths out of black construction paper and attach them with glue dots. Drape the ghosts with cheesecloth to complete the look.
These decorations are perfect for Halloween. They are frightening, fun, and easy to make, so get started today.