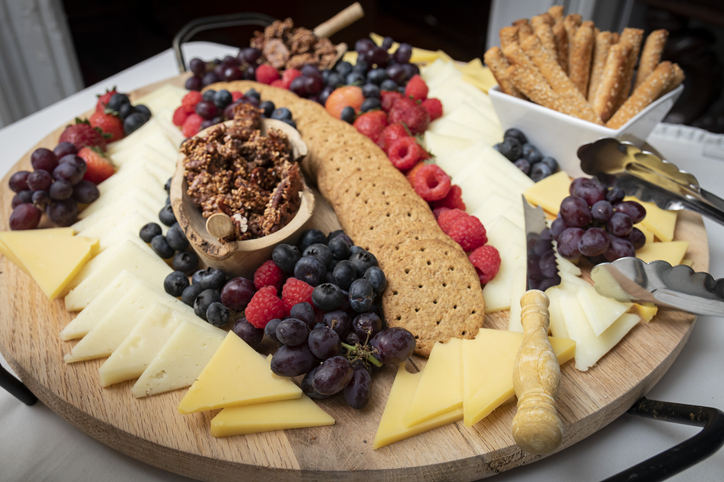 Who does not love having a party? Gathering your friends and family together for a day filled with fun. There is nothing like it. When you are the host, however, it can be stressful planning for the party. You are thinking about the activities, but more importantly you are thinking about the food. It does have to be difficult, though. Yes, you can go all out with several dishes, but why do that to yourself? You can host the perfect party with a charcuterie board. Taste of Home gives you the step-by-step on how to create the perfect charcuterie board for any event.
Why a Charcuterie Board?
A charcuterie board may sound like one thing, but there is so much variety found on these boards. You get your protein from the meats and nuts. Plenty of fresh and vegetables can be added to the charcuterie boards. Get your calcium fix from the varieties of cheeses. Need something sweet? Add some chocolate bars to the board. Seriously, a charcuterie board can have an array of flavor profiles represented on the board, and there can be something on the board that everyone can enjoy.
While there is variety, a charcuterie board still keeps things relatively simple. You do not have to cook anything. You may not need to even to gather plates and cutlery. Many times, people just stand around the kitchen island, talking, and enjoying the treats on the charcuterie board.
Items for Your Board
You will need a few things to create your charcuterie board. Here is what you will need:
Serving Board
Cheese Knives
Small Bowls
The serving board is self-explanatory for your charcuterie board. You may, however, need some other items like the knives and bowls. Cheese is one of the major stars of a charcuterie board. Cheese comes in a variety of textures, so it is good to have different cheese knives to cut your cheeses. Some cheese knives have another end that helps you pick up the slice of cheese you want. While not mandatory, having small bowls can keep your board organized as you put smaller items like nuts, dried fruit, and other accoutrements in the bowls.
You might also like: Spend Your Summer At Smith Mountain Lake
Assembling Your Board
Now, for the fun part. Putting your board together. You really cannot go wrong with what you put on your board. There are some standards that you need to have for your charcuterie. Start with your cheeses. For a cheese full of flavor, there is smoked Gouda. If you want a cheese that is sharp and tangy, there Blue cheese. For a cheese that is mild and can pair with several different flavors, you should grab a block of Havarti.
After you have selected your cheeses, you need to choose some meat that will pair well with the cheese. Prosciutto is an excellent choice for any charcuterie board. It is tender and has the perfect amount of saltiness. Other great meat options are salami and calabrese.
You will want to eat your meats and cheeses with crackers and scrumptious spreads. Opt for two or three of your favorite crackers. Mustard and honey goes well with the meats and cheeses, especially when spread on a cracker. Other spreads you may want are fruit spreads or a spicy pepper jelly.
All of these snacks can be complemented with accoutrements like almonds, olives, cornichons, and vegetables like raw tomatoes and cucumbers as well as fruits such as grapes and strawberries. When you go to assemble everything, you will start by putting your cheeses on the board. Next, put out the meats where the cheese is not. Then you will spread out some crackers amongst the cheese and meat. Where there are gaps, you will fill with the remaining accoutrements.
Disclaimer: The stock image is being used for illustrative purposes only, and it is not a direct representation of the business, recipe, or activity listed. Any person depicted in the stock image is a model.