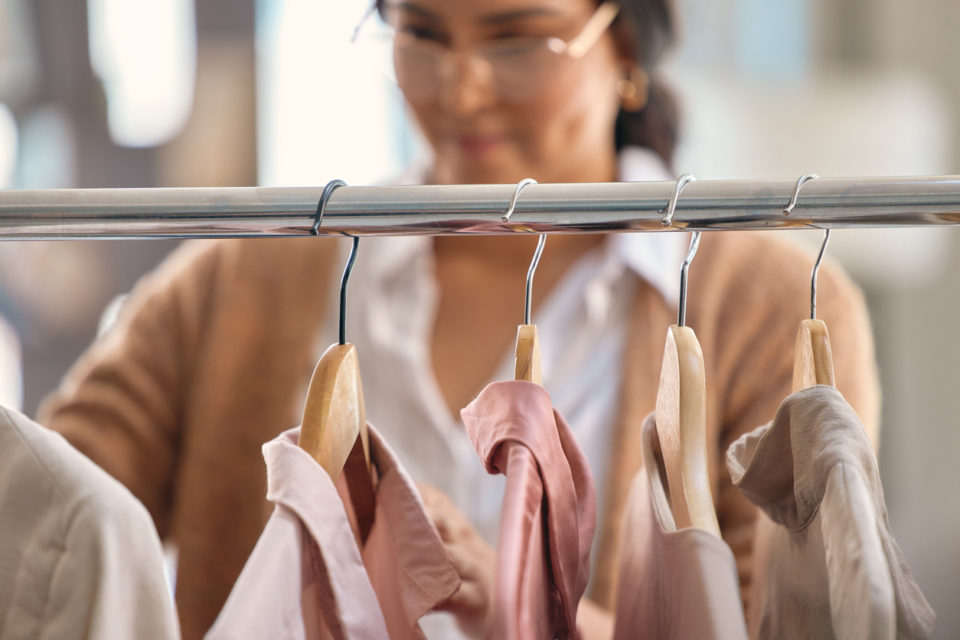 Have you ever stood in front of your closet, lost in a sea of clothes, but still feeling like you have nothing to wear for work? You're not alone. The good news is, building a work wardrobe is easier than you think. With the help of the skilled stylist at StitchFix you can put together a capsule wardrobe that will ensure you always have something to wear.
What is a Capsule Wardrobe?
Imagine a mini-wardrobe made up of really versatile pieces that you totally LOVE to wear.  Each piece will work with the several of the other pieces in your wardrobe, and they're all made of high-quality material. That's a capsule wardrobe. Instead of having loads of okay-ish clothes, you have a few fantastic items. Each piece can mix and match with others, making it super simple to get dressed for work (or any other time). Keep reading to learn what you need to have in your capsule wardrobe.
Basic Tops You Should Have in Your Closet
First up, you'll need a few neutral-color silk blouses. Think of colors like white, black, or beige. A silk blouse in these shades is timeless. It looks professional and pairs well with almost anything. Now add a few pops of color but stay away from prints until you've built a strong base wardrobe. When you're ready to expand to add more personality to your wardrobe you'll appreciate having a few solid color blouses. Maybe a bold blue or a rich red? Choose a color that makes you feel confident. For those chilly days in the office or when you just want to feel cozy, a good knit sweater in a solid color can be both comfy and professional.
Jackets You Will Need
A black blazer is the very first jacket you should buy.  This is a must-have! It's like the superhero of work clothes. It can instantly make any outfit look sharp. Whether you're wearing a dress, a blouse, or even a t-shirt, throw on a black blazer, and you're ready for that meeting. Next up is a trench coat. Perfect for those rainy days or just when you want to add a touch of style to your outfit. A neutral-colored trench coat is versatile and always looks chic.
You might also like: Super Cruise And The Rise of Autonomous Vehicles
Bottoms You Should Have
A pencil skirt is a classic that never goes out of style. It's sleek and flatters almost every body type. Whether you pair it with a blouse or a sweater, it's sure to make you look polished. You'll also want a few neutral-color trousers. Just like with your basic tops, think of colors like black, gray, or beige. A pair of well-fitted trousers in these shades can be your best friend on those "I don't know what to wear" days. They're comfortable and can be paired with almost any top.
Building a work wardrobe doesn't have to be tough or super expensive. By focusing on a few quality pieces that mix and match easily, you can save time, reduce morning stress, and always look on point at work. Start with these basics and slowly add more pieces over time. Soon, you'll have a closet that makes getting ready for work a breeze!
Disclaimer: The stock image is being used for illustrative purposes only, and it is not a direct representation of the business, recipe, or activity listed. Any person depicted in the stock image is a model.