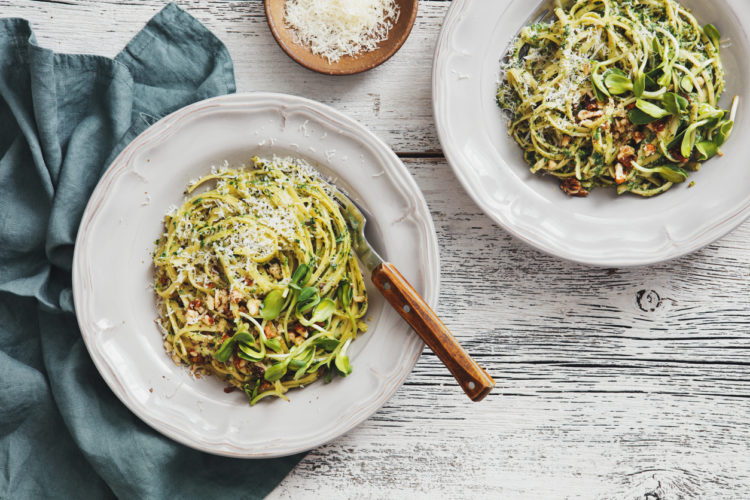 Pasta dishes are a crowd pleaser for many reasons, but often, they contain meat. For our vegetarian friends, that limits their options, but they shouldn't have to forgo a scrumptious helping of pasta. These five vegetarian pasta dishes are sure to rock your taste buds, so give them a try! Even if you aren't a vegetarian, you'll devour these meals, so add them to your weekly rotation.
If you want your daily helping of leafy greens, you're in luck because this Spinach Artichoke Lasagna puts every other veggie lasagna to shame. Packed with the flavor, this dish requires about 20 minutes of preparation time and 50 minutes to cook in the oven. Although, make sure you have a food processor on hand for efficiency. Also, another way to cut time is buying no-boil noodles — the DeLallo Food's whole wheat pasta is a divine compliment to this dish.
Creamy and vegan in the same sentence? Oh, yes — a dairy-free pasta, the butternut puree is sure to deliver the comfort food flavor all of our vegan friends desire. In under an hour, you can have a pleasing dish on the table, so head to the store to grab the ingredients, including vegetable broth, whole-grain linguine, and butternut or kabocha squash. Garnish with fried sage and this creamy but creamless pasta will be one of your new favorite meals.
Although it's not the fall season, that doesn't mean you can't enjoy the delicious flavors of pumpkin all year long. Packed with rosemary, red pepper, goat cheese, and a pumpkin puree, this pasta dish gives a boring, traditional alfredo a run for its money. The perfect 30-minute meal, demanding only 10 minutes of prep time and 20 minutes of cooking, your pumpkin-lovers won't have to wait long. The best part? If you don't finish this dish, all you have to do is store it in an airtight container and reheat it with a splash of milk. Oh, and you can't forget to top it with the famous parmesan shavings.
Arugula is delicious in salads and sandwiches, so why not throw it in a pesto pasta dish? If you've never made your own pesto, now's your chance, and it's actually not too complex. When you're at the store grabbing ingredients, don't forget a lemon, which is the perfect finishing touch on this insanely delicious pasta dish. This 15-minute meal is easy, quick, and is just as delicious as a $30 gourmet pasta dish you would find at a fancy restaurant.
You might also like: Check Out These Helpful Tips For Cleaning Up Pet Hair
Apples in pasta? Don't diss it until you try it. Simple as can be, you'll prepare the vegetables by chopping them and baking them in the oven while you boil the pasta. This is another 30-minute meal you are sure to enjoy, so grab some Fuji apples, toasted pecans, and whole wheat chiocciole for the perfect, wholesome meal.