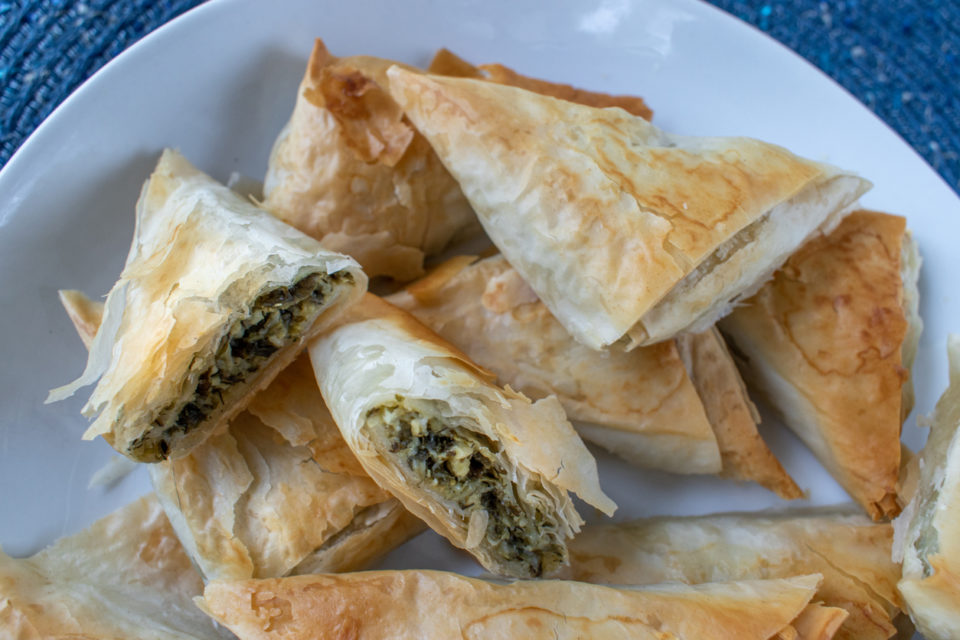 Even though New Year's Eve will look a lot different this year, you can still celebrate the start of 2021 with some tasty food. Whip up a few of these delicious appetizers to graze on as you ring in the new year!
Garlicky Shrimp Dip
Warm, creamy, cheesy shrimp dip – need we say anymore? This dip is fantastic with tortilla chips, pita chips, crostini, or even garlic bread!
Spanakopita
Pictured above, spanakopita is a savory Greek pastry with flaky layers of phyllo dough and a creamy spinach filling. Essentially, it's the perfect appetizer.
Garlic Bread Pizza Dip
Garlic bread plus pizza dip might just be the next best thing since sliced bread. Combine everyone's two favorite foods into one irresistible snack with this recipe!
Loaded Cheese Ball Bites
The only thing better than a cheese ball is miniature loaded cheese ball bites. Serve these savory snacks up with pretzels, pita chips, or crackers and keep everyone happy all evening.
Cheese Straws
Cheese straws get a bad rap for being finicky and difficult to make, but that simply isn't the case with this recipe. Delish makes it easier than ever to whip up this classic holiday treat!
Ginger Pork Potstickers
Making your own potstickers is way easier than it sounds and way more delicious than the frozen grocery store variants. You could also turn this into a whole meal by serving it with roasted edamame!
Caprese Bites
Caprese bites are a classic that never fail and never disappoint. Add a fresh twist to your snack lineup with cherry/grape tomatoes, mozzarella balls, and fresh basil. Want to take your Caprese bites up a notch? Roast your tomatoes and caramelize the cheese!
Candied Bacon 'Lil Smokies
Candied bacon 'lil smokies are what would happen if your maple-dipped bacon and sausage dreams came true. You'll probably want to make two batches of these. Or three… you know, just to be safe!
Steak Frites Bites
Though you can't actually go to Paris for steak frites this NYE, you can make your own at home. This bite-sized version of steak and fries is sure to add an upscale, indulgent air to your celebrations this year.
You might also like: Try These Unique Pancake Recipes For A Holiday Breakfast
Pasta Chips
If you have picky eaters among your ranks, satisfy your cravings and their palates with pasta chips and a marinara dipping sauce!