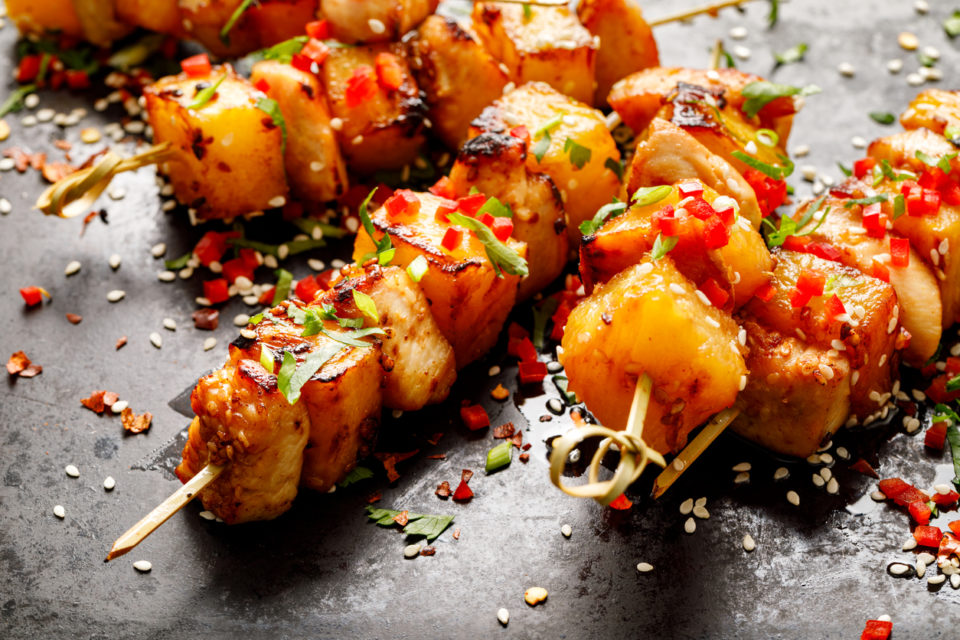 If you're looking for a recipe that tastes like summer, check out this delicious Hawaiian Chicken kabob recipe by She Wears Many Hats. This delicious and colorful recipe makes it an ideal meal for summertime. So start planning your next meal with this recipe in mind.
Ingredients
Oil or Grill Cooking Cooking Spray For Grill Grates
1/4 Cup of Soy Sauce (Or Tamari)
1 to 2 Tablespoon(s) of Olive Oil (Or Sesame Oil)
1/4 Cup of Canned Pineapple Juice
2 Cups of Pineapple Chunks
3 Tablespoons of Honey (Or Brown Sugar)
1 Large Red Onion (Cut into one 1/2-inch piece)
2 Tablespoons of Sesame Oil
3 to 4 Bell Peppers (Cut into one 1/2-inch pieces)
1/2 Teaspoon of Garlic Powder
4 Boneless, Skinless Chicken Breasts (Trimmed, Cut into one 1/2-inch piece)
1/4 Teaspoon of Ground Ginger
1 Tablespoon of Cornstarch
1/4 Teaspoon of Salt
1/4 Teaspoon of Ground Black Pepper
1/4 Cup of Cold Water
Skewers
Directions
Step 1: Heat a small saucepan over medium heat, and whisk together pepper, soy sauce, salt, pineapple juice, ground ginger, honey, garlic powder, and sesame oil. Bring the marinade to a simmer.
Step 2: Whisk together cornstarch and cold water in a separate bowl.
Step 3: Slowly stream the cornstarch mixture into the marinade, whisk it all together, and return it to a simmer. NOTE: You should whisk the mixture for three to four minutes or until the marinade thickens.
Step 4: Remove from heat and set aside.
Step 5: Place the cut, skinless, boneless chicken breast in the large plastic zip-loc baggie or bowl.
Step 6: Add half of the marinade and toss the chicken to coat it. Seal or cover the chicken and refrigerate for at least 1 hour up to 4 hours.
Step 7: Preheat the grill to medium heat.
Step 8: Thread pineapple, chicken, onion, and peppers onto the skewer, and then brush the vegetables with olive oil. NOTE: You can pick the order in which the food is threaded on the chicken.
Step 9: Oil grill grates and place the kabobs on the grill. Turn the kabobs every four to five minutes, and bast the remaining marinade until the chicken is done.
Step 10: Enjoy!
You May Also Like: What's The Difference Between Premium & Regular Gas?
Try This Recipe Today
You can make the marinade beforehand and store it up to three days before use. Marinating the chicken is going to make the chicken full of flavor, so don't rush the process. If you're using wooden skewers, you need to soak the skewers in water for 30 minutes. If this sounds like a meal your family will enjoy, grab the keys to your Berglund Automotive Group vehicle and head to your local store to stock up on all the ingredients. This can also be a fun way to get your family involved in dinner because they can decide what they want on their skewer.
Disclaimer: The stock image is being used for illustrative purposes only, and it is not a direct representation of the business, recipe, or activity listed. Any person depicted in the stock image is a model.