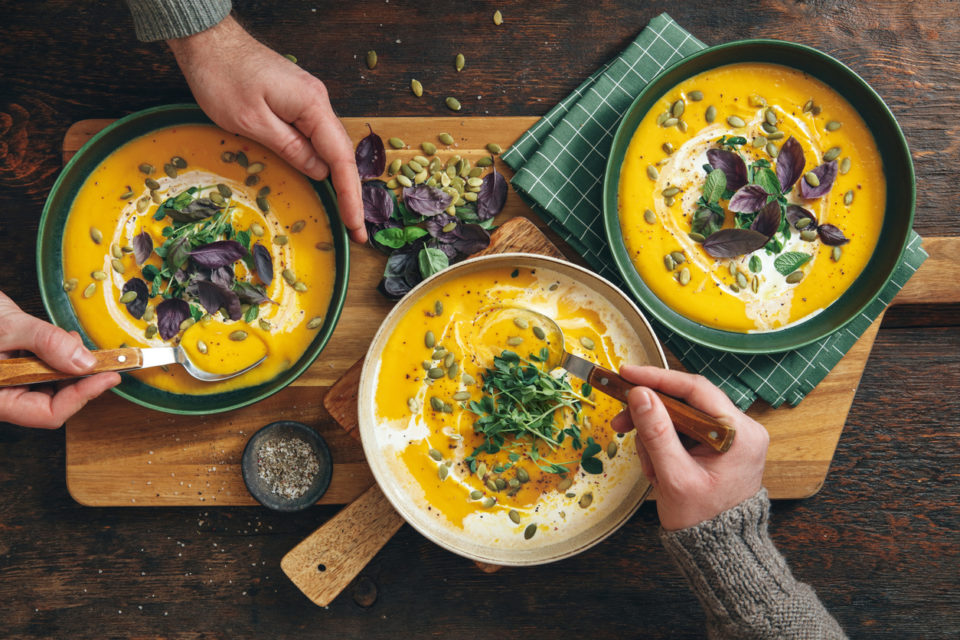 Summer is long gone, and the cooler weather has arrived. You can stave off the chill in the air by eating soup throughout the season. Now, when it comes to soup, homemade beats the canned stuff any day of the week. Try these winter soup recipes to stay warm and cozy this season.
1.      Creamy Parm Tomato Soup
Do you have memories of eating tomato soup as a child? You might have paired it with grilled cheese back in the old days. Now, though, you can make a tomato soup that's so hearty that you can skip the grilled cheese. This creamy parm tomato soup recipe includes tortellini and will stick to your bones.
2.      Best-Ever Beef Stew
You can also enjoy a hearty meal with this recipe for the best-ever beef stew. This is a bit different from a traditional beef stew. Normally, stews are thick, but this is more like a soup. It's delicious as is, but you can add some corn starch if you prefer a thicker broth. Then, it'll be more like a traditional stew.
3.      Vegetable Cabbage Soup
This recipe for vegetable cabbage soup is sure to hit the spot. You can enhance the flavor by roasting the cabbage before making the soup. That's such a simple step, but it makes a huge difference when it comes to the flavor. Also, you can add some salsa if you like a little kick with your soup.
4.      Easy French Onion Soup
You don't have to go out to dinner to have mouthwatering French onion soup. Instead, you can use this easy French onion soup recipe to enjoy a restaurant-worthy bowl. Browning the onions takes a little bit of work, but otherwise, this recipe is a snap to make. Oh, and you won't mind putting in a little work when you taste this soup. The chill outside will be a distant memory after that first bite.
You might also like: Follow These Tips And Tricks To Make Tailgating A Breeze
5.      Crock-Pot Chicken and Dumplings
Chicken and dumplings are a staple of dinner tables during the autumn and winter. You've likely tried numerous offerings, but this recipe for crock-pot chicken and dumplings is a standout. It's even better when you add a touch of butter. The butter manages to bring out the flavors and make the dish even creamier. It's also super filling, so you can enjoy some leftovers with this one.
It's hard to know where to start after looking at these recipes. They're all so good, so you can't go wrong, no matter what you pick. Start with one and work your way through the list. Then, you will enjoy a full range of tasty flavors.
Disclaimer: The stock image is being used for illustrative purposes only, and it is not a direct representation of the business, recipe, or activity listed. Any person depicted in the stock image is a model.