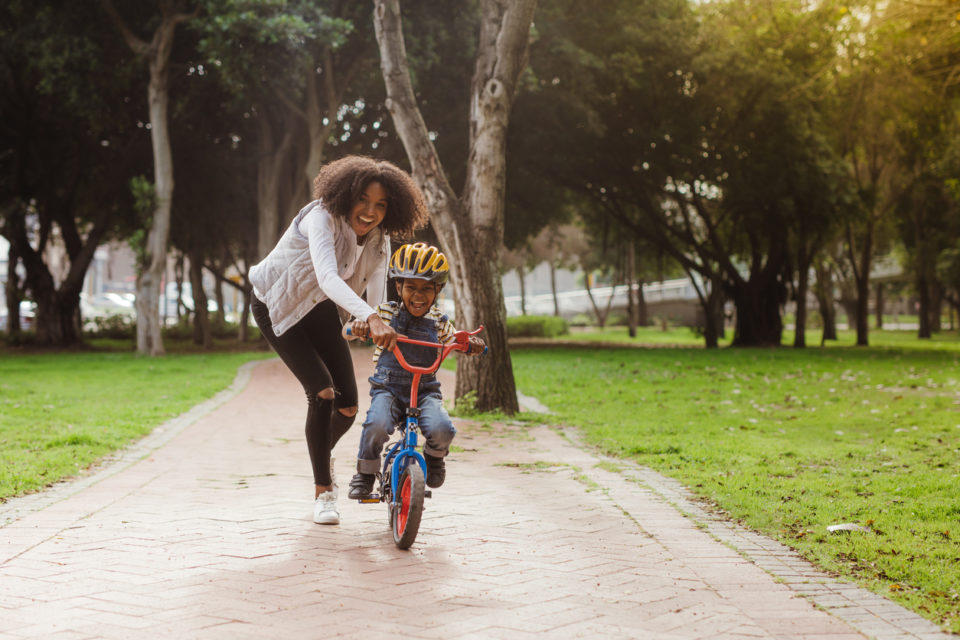 As your child starts to get older, they may want to learn how to ride a bike, so check out these tips for teaching your child how to ride a bike, according to Two Wheeling Tots. There are a variety of ways to teach a child how to ride a bike, but the number one factor for each of them is to have patience.
Tips For Teaching A Child To Ride
Balance Is Key. If your child doesn't know how to ride a bike, you can turn their bike into a balance bike by taking the pedals off.
Sit And Walk. Let your child sit on the bike and walk it with their feet. Once they are comfortable walking and riding, they can progress to a run. You can also encourage them to roll down a grassy hill to help with balance. If they have mastered gliding, they can start to initiate turns.
Put The Pedals Back On. Now that they have mastered gliding and balance, you can put the pedals back on and let your child get used to them by running with the bike. Once they have the idea, help them with a slight push to pedal. You should also ensure the seat is at the right height while pedaling.
Other Teaching Methods
If your child struggles with pedaling, you can help them by building a bike trainer. This is simple. If you have a training wheel bike, you can place the training wheels on blocks so that the rear wheel is off the ground and then have the child use the pedals. This method helps the child learn to pedal and keeps them in the same space.
If your child needs help balancing, you may want to look into a balance buddy. The balance buddy attaches to the rear of the rear wheel's axle and has a handle that acts as a handlebar for adults. The balance buddy allows for the child to sit upright and pedal the bike with the adult's assistance to keep them balanced.
You May Also Like: Consider Starting Your Own Garden
Teach Your Child To Ride A Bike Today
Teaching your child to ride a bike doesn't have to require you to run alongside them or to attach training wheels. It's a gradual process, so head to the store in your Berglund Automotive vehicle and get your child their first bike. Also, this is about teaching a child to ride a bike, so make sure they wear their helmet. Don't rush the child when teaching them to ride their bike; this is a gradual process, so no matter if it takes 10 minutes or two months, they will pick it up at their own pace.
Disclaimer: The stock image is being used for illustrative purposes only, and it is not a direct representation of the business, recipe, or activity listed. Any person depicted in the stock image is a model.