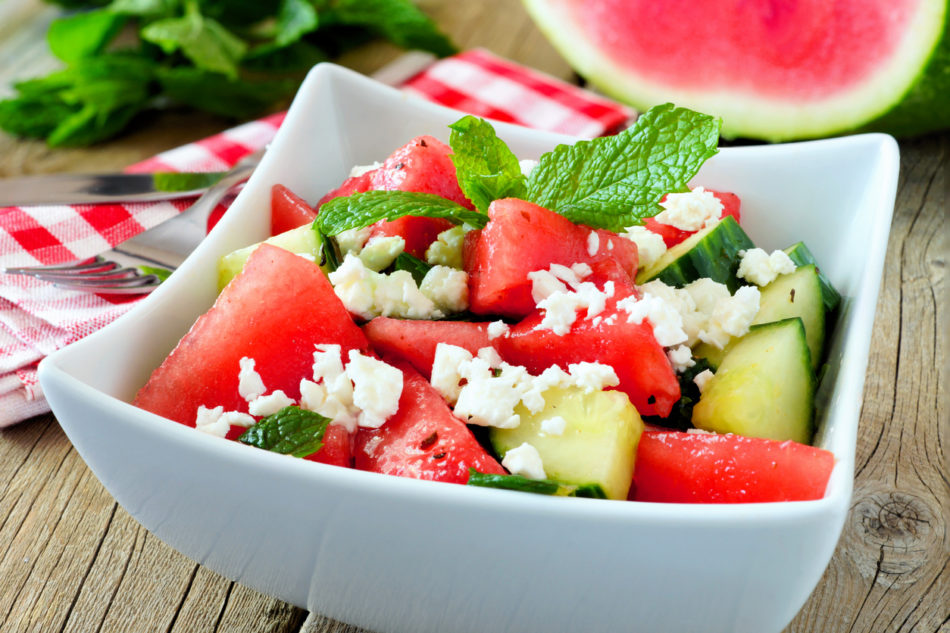 Watermelon is the food of the summer, so what better way to welcome the month of August than with a snazzy watermelon recipe? From appetizers to salads and desserts, you are in for a treat with these dishes.
Watermelon Caprese Appetizer
This recipe requires 3 sprigs of stemless fresh basil, 1 small watermelon, 1 (8 ounces) package of fresh mozzarella cheese, 2 tablespoons of olive oil, 2 tablespoons of balsamic vinegar, and a hint of salt and ground black pepper.
Step 1: Cut and portion the watermelon with a melon baller. Then, cut the mozzarella cheese into small pieces. Trim basil leaves into small circles about 1 inch in diameter.
Step 2: Thread watermelon and mozzarella cheese onto toothpicks, sandwiching a basil leaf in between. Arrange on a serving plate.
Step 3: Pour olive oil and balsamic vinegar over toothpicks. Sprinkle salt and black pepper on top. It's just that simple. Enjoy!
Refreshing Cucumber Watermelon Salad
This recipe requires 1 small red onion, 2 tablespoons of lime juice, 2 tablespoons of extra-virgin olive oil, 1 seedless watermelon, 3 baby cucumbers, 1 cup of crumbled feta cheese, and ½ cup of mint leaves.
Step 1: Half and slice red onion into thin half-moons. Mix red onion with lime juice in a bowl. Now, set the bowl aside to marinate at least 10 minutes. Stir olive oil into the mixture.
Step 2: Cut watermelon and baby cucumber into cubes and toss with the feta cheese in a large bowl. Pour the red onion mixture over the watermelon mixture. Toss to coat. Sprinkle thinly sliced mint over the salad and toss. Now, gobble up this refreshing salad!
You might also like: Try Out These Easy Breakfast Ideas To Get Your Day Going
Watermelon Sherbet
This recipe requires 4 cups of diced seedless watermelon, 1 cup of white sugar, 3 tablespoons of lemon juice, 1 dash of salt, ¼ cup of cold water, 1 (.25 ounce) envelope of unflavored gelatin, and 1 cup of chilled heavy cream.
Step 1: Combine the watermelon, sugar, lemon juice, and salt in a large mixing bowl, and stir to coat evenly. Cover the bowl with plastic wrap and refrigerate for 30 minutes.
Step 2: Blend the mixture in a blender until smooth, and after, return to the bowl.
Step 3: Pour the cold water into a saucepan. Sprinkle the gelatin over the cold water and let stand 1 minute. Place the saucepan over low heat, and cook for 2 minutes. Stir the gelatin mixture into the blended watermelon mixture. Add the heavy cream, and beat with an electric hand mixer at medium speed until the mixture is fluffy.
Step 4: Transfer the mixture into an ice cream maker and freeze according to the manufacturer's directions until it reaches "soft-serve" consistency. Transfer ice cream to a one-or-two-quart lidded plastic container.  Now, cover the surface with plastic wrap and seal. For best results, ice cream should ripen in the freezer for at least 2 hours or overnight.
Disclaimer: The stock image is being used for illustrative purposes only, and it is not a direct representation of the business, recipe, or activity listed. Any person depicted in the stock image is a model.